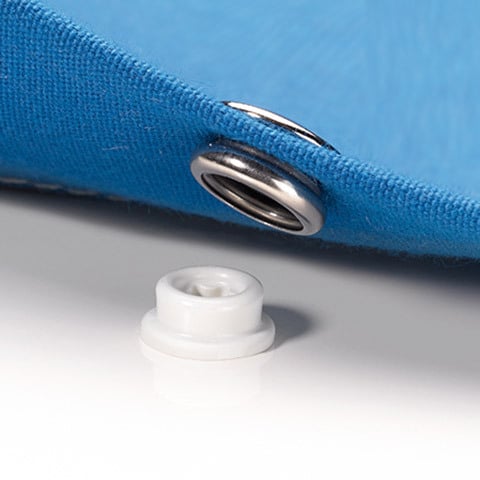 made to match
CAF-COMPO: the only screw-stud that blends into any design and is 100% corrosion-free.
---
CAF-COMPO is made to match. To match any surface colour, to match any snap and to match the requirements that come with use in marine and outdoor applications.

The self-tapping version is perfect for use in surfaces like wood, fiber-glass polyester and other composites. The metric M6-version is excellent for materials that require a pre-tap, like aluminum or harder metals. Uniquely solving the galvanic corrosion issue on any aluminum surface, like window-frames.

The stud is the lower part of a snap or ring-spring press fastener system, like CAF-316. CAF-COMPO screw-stud will fit any regular (24-line) ring spring socket, no matter the supplier (meeting Mil Spec 10884 (MS27980 Style 2). Even the plastic sockets fit.

CAF-COMPO for COMPATIBLES are based on the same technology now bringing the same unique benefits to other fastening systems, like Tenax®/Loxx®-, Minax- and Lift-the-Dot®-like products. Download product folder CAF-COMPO for COMPATIBLES

CAF-COMPO comes in white, cream, light grey and black, or any colour you like to be made custom. All CAF-COMPO products come in packages of 10, 100 and 1.000 packs. There is one special packages: the CAF-Starter-KIT for the professional.